Our MTM Rehab Gym
Team
MTM > Our Team

Jessica Smurthwaite
Senior Exercise Physiologist
Gym Manager
B.Sc. (Exercise and Health) GradDipSci (Exercise Rehabilitation)
ESSAM AEP (Accredited Exercise Physiologist)
Jess Graduated from UWA in 2012 where she was awarded the Tracy Cawson Prize in Exercise Rehabilitation. She first joined the MTM team in 2014 and relishes the opportunity to make a difference in people's lives through exercise prescription.
Jess has always been fascinated with how the body works and together with her love of sport she found Exercise Physiology was a perfect fit to translate her passion into a way of helping people. She is a movement optimist and takes great pride in continuing to learn and upskill to remain contemporary and provide client-centred care that is evidence based. She is particularly passionate about managing chronic and complex conditions, post-operative rehabilitation and getting people of all abilities involved in strength training.
Having taught clinical Pilates for many years, Jess enjoys putting her own spin on Pilates in her classes at MTM. She also believes that the reformers are an effective rehabilitation tool and provide a great way to exercise.
Jess will help you reach your goals through a holistic exercise program tailored to your individual needs and she will enjoy sharing the journey with you!



Ben Pascoe
Accredited Exercise Physiologist
B.Sc. (Exercise & Sports)
M.CEP (Clinical Exercise Physiology)
ESSAM AES (Accredited Exercise Scientist), AEP (Accredited Exercise Physiologist)

Ben graduated from Edith Cowen University in 2018 with a Bachelor of Science (Exercise & Sports Science) before going on to graduate from the University of Western Australia with a Master of Clinical Exercise Physiology in 2020.

After playing years of competitive basketball, Ben sustained musculoskeletal injuries along with four shoulder reconstructions each requiring months of rehabilitation. It was during this time that Ben found a passion in both weightlifting and rehabilitation leading him to becoming an Accredited Exercise Physiologist. Over the course of studying at university, Ben was able to work with the Subiaco Lions Football Club strength & conditioning team as well as completing a strength & conditioning internship with the Perth Wildcats in 2019 expanding his knowledge regarding injury prevention and injury management.

Ben's personal experience with musculoskeletal rehabilitation helps him understand each individual client, and the delivery of client-centred care to help each person strive for their goals. Areas of interest for rehabilitation include musculoskeletal injuries, mental health management, cardiovascular conditions, and management of chronic illness or disease, particularly Type 1 Diabetes Mellitus, osteoporosis, cancer, and more.

Kate Atkinson
Senior Exercise Physiologist
B.Sc. (Exercise and Health)
B.Sc. (Exercise Rehabilitation)
ESSAM, AEP (Accredited Exercise Physiologist)

Kate is passionate about all aspects of health and wellness and enjoys helping people achieve their fitness goals. She has worked with people aged from 11 to 96 years old and is trained to prescribe safe and effective exercise programs that are specifically tailored to each client. Kate is experienced in prescribing exercises for individuals with musculoskeletal issues and chronic and complex conditions such as diabetes, osteoporosis, obesity, arthritis and people post-stroke and cancer treatments. She has experience working with Pilates reformers and completed Pilates mat work courses.
Kate has been a part of the Made To Move team since 2010 and loves being a positive part of helping people become more active and healthy.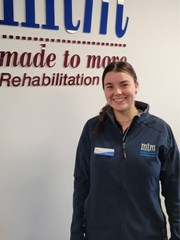 Rebecca (Bec) Thornton
Accredited Exercise Physiologist
B.Sc. (Exercise and Sport Science)
M.Sc. (Clinical Exercise Physiology)
ESSAM, AEP (Accredited Exercise Physiologist)

Rebecca (Bec) graduated from The University of Notre Dame in 2020 with a Bachelor of Exercise and Sports Science majoring in health promotion. Bec went on to complete her master's degree of Clinical Exercise Physiology at The University of Western Australia (UWA) in 2022. During her studies, Bec had the privilege of working with the East Fremantle Woman's football team (WAFLW), where she assisted the rehabilitation group. Additionally, she spent two years as a sports trainer at the East Fremantle Football Club (WAFL).
Bec has always been motivated to achieve her goals, including completing multiple Rottnest Channel Swim crossings. Her passion for helping others has driven her to pursue a career where she can work with individuals to improve their quality of life, general health, and wellbeing or assist with rehabilitation from injury and illness.
Before working at MTM, Bec began working in the pre-employment industry screening and assessing individuals' capacity to be fit for work across multiple job sectors. This allowed Bec to expand her knowledge and skill set across different avenues within the Exercise Physiology industry.
The exposure to different aspects of the industry through work and practicum opportunities has allowed for Bec to work with a variety of clients including Parkinson's disease, Diabetes, musculoskeletal pathologies, oncology, and more! Bec has developed a passion for working alongside NDIS participants, cancer, musculoskeletal rehabilitation and pain management, diabetes management and beyond.
One of Bec's favourite quotes is "Movement is medicine for creating change in a person's physical, emotional and mental states" by Carol Welch, which is a testament to her belief in the power of exercise to promote overall health and wellbeing.
Bec is a dedicated and passionate professional who strives to help clients achieve their goals and improve their lives through exercise and rehabilitation.